Alexander Valley Vineyards 2001 Cabernet Sauvignon
Drink it young or let it age; you should do well either way.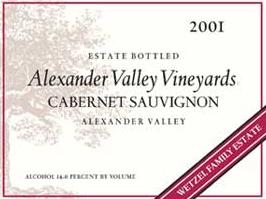 The benchmark wine of Alexander Valley Vineyards since its second year of operation, this is a wonderfully drinkable Cabernet Sauvignon, but is also expected to age well.
We tried the 2001 Cabernet Sauvignon and enjoyed its rich fruit flavors. The cherry and plum were particularly evident, nicely balanced with cassis. Firm tannins keep the taste firm, letting it melt away gently through the finish.
The vineyard's proprietors rightly describe the wine as medium to full-bodied. It won't overpower anything that you're having with it, but does have plenty of body that helps to keep it from being overrun. At $20 per bottle, this is a nice deal.
Created by
cmcurtin
This article originally appeared on Sunshine Poultry.
Last modified
2004-08-23 04:17 PM