America's First Dynasty: the Adamses, 1735-1918, Richard Brookhiser
Throughout much of human history, leaders of nations were the children of leaders of nations. Nearly 230 years ago, a radical notion was advanced in a document that would help to form a new republic: that all men are created equal. Many of those American colonists who declared themselves independent of their king wanted not only to limit the power of the executive but to be sure that they had the ability to choose who that executive would be, rather than to have it pass from father to son. Thus, "only three of the first eight presidents produced potential successors, [and] only three of those sons were considered presidential timber." Two of them were named Adams, and one of them would actually become president.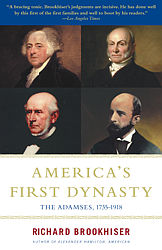 In America's First Dynasty, Richard Brookhiser uses just under 220 pages to paint compelling biographies of four successive generations of a family from 1735 through 1918, an unusually active one that included two presidents of the United States, a public servant of the republic and his state, and a writer. These men lived through tumultuous and eventful times and played roles in them.
The text appears to be well-researched and is quite readable. Quite a lot of history was packed into a very small number of pages; readers with a good understanding of the times and concurrent history will find their understanding of these characters enhanced. Readers who do not know much of the concurrent history might feel rushed.
In groups of three chapters, each of the subjects is considered. Beginning with John Adams, we're introduced to him already in service of his country, at a dinner party in France. We follow him through the highlights of his professional career, and into retirement. We're suddenly focusing on his son John Quincy, as his career starts at an early age with his father, and how he differs from his brothers, who fall prey to the snare of alcohol. John Quincy himself was distinguished, even becoming president, but (much like his father) was hampered by his distaste for political parties and the method of serving in public office.
Charles Francis Adams married well and held various public offices throughout his career, even running as a candidate for Vice-President on the Free-Soil party ticket. Most of his public life was in state and then federal legislature, followed by a diplomatic appointment by Abraham Lincoln. Brookhiser points out that it is in the family of Charles Francis that the family tendency toward alcoholism is broken.
Henry Adams apparently had no taste for public life, preferring instead to become a writer. Much of the biographical sketch focuses on the creation of his best-known work, The Education of Henry Adams. With only his lineage and his wife's suicide to frame the work, we're left wondering what else Henry did. Perhaps this was Brookhiser's intention: to focus on that which each of the subjects left behind for posterity.
Indeed, after the biographical sketches, we're given several more brief chapters that discuss the family habit of keeping a diary and the writing of history. Brookhiser then attempts to frame much of what we have read, discussing such matters as dynasty and legacy. I found the discussion a bit strange because while various Adamses were clearly concerned with the matter of greatness—returning to the question of who are great men—I was under no impression that the Adamses themselves were much concerned with the legacy of the family. I saw only that they were like every other family, wanting what is best for their children, hoping that they will be of good character and do well for themselves.
Putting the discussion in terms of dynasty might not be so strange when viewed through the lens of history. The fact is that John Adams was there from the founding of the country, and his family remained prominent in American life into the twentieth century. Had Henry fathered children, perhaps the chain of prominent Adamses would be unbroken today.
Given this country's interest in the families that produce presidents, it's hardly any surprise that there would be such interest in a family that produced two presidents, especially in light of the fact that the current president is also the son of a president. In all, America's First Dynasty makes for an engaging read, but the extreme brevity of the biographical sketches left me hoping for more.
Created by
cmcurtin
Last modified
2005-10-24 09:07 AM